Seismograph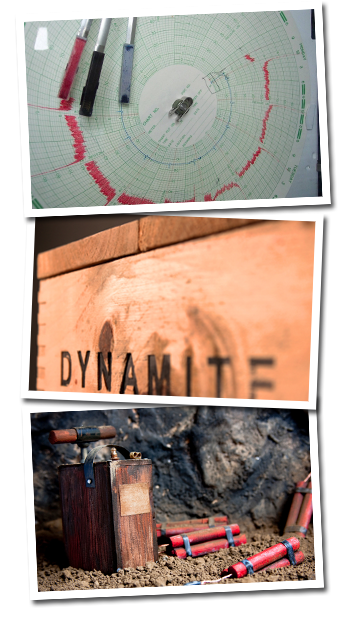 A seismograph is a device that detects vibrations in the earth. It is used when prospecting for hydrocarbons (oil and gas) within the earth.
Seismic Testing
Most oil and gas operators engage independent contractors to conduct geophysical surveys on properties where they hold or are considering buying oil and gas leases. The seismic testing operation is typically done with either (a) an explosion of a charge that shakes the earth (seismic blasting) or (b) a machine like a seismic vibration truck that shakes the earth. The "shoot" of the proposed area is done to provide a contour map to the operator's exploration department.
It is not uncommon for the contractor doing the seismic work to cause a significant amount of seismograph surface damage when conducting their operations.
If the minerals are leased to an oil and gas company, the seismic company has the right to use as much surface land as is reasonably necessary to conduct seismic operations.
If the minerals are not leased, the seismic company must secure a contract with the landowner to enter the property.
Under either scenario, the landowner is entitled to financial compensation for any seismograph damage done to the surface. Knowing that, almost all seismic testing companies will attempt to negotiate a release, trying to get the landowner to sign an overly broad and unduly burdensome contract.
Seismic Damages
It is important that landowners get a natural resource attorney involved early, before they sign something they shouldn't. These are some examples of seismograph damage for which we routinely see landowners sign away their right to compensation:
Damage to structural foundations
Damage to timber
Excess ruts
Damage to water wells
Release of all claims of every kind and character, whether known or unknown
We've also seen landowners accidentally convey valuable sub-surface rights.
A landowner is not required to sign anything and many times that is the course of action we recommend. If the seismic company has a legal right to be on the land, we tell the landowner not to interfere with the seismic work. After the work is done, we help the landowner settle damages.
Call the LandownerFirm to Protect Your Rights 
If you have been contacted by a seismograph company, contact the natural resource lawyers at the LandownerFirm BEFORE you sign anything. We know what to do to protect you from the financial burden of surface damage and cleanup. Our firm has been helping landowners in Oklahoma and across the nation for more than 15 years.
Contact our law firm to schedule a consultation at our Tulsa area, Oklahoma City, or Coalgate office, or call 888-439-4729.
.