Mineral Rights Attorney
Oil And Gas Lease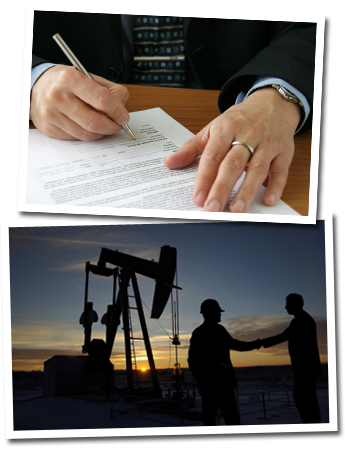 Do not fall for the old landman trick: "This is a standard oil and gas lease." There is no such thing. There are many "standard leases" and most totally favor the oil and gas company. A good mineral rights attorney would advise you of this.
Encumbering your valuable mineral rights with an oil and gas lease is a significant undertaking.
A good oil and gas lease agreement should be fair for both sides. The agreement should represent an attempt to balance a producer's right to economically extract hydrocarbons with the landowner's right to be paid, continue to enjoy, and operate on their land. 
A good lease will therefore permit the landowner to have input into what evolves into a good surface use agreement between the parties. Entering into an oil and gas lease is much like entering into a partnership, where the ultimate goal is the successful extraction of profitable hydrocarbons and both the operator and mineral owner share in the generated income. If the surface owner and mineral owner are the same, a good oil and gas lease will also have protections or address what ultimately evolves into a good surface use agreement between the parties.
Even if you have total faith and trust in the person you are dealing with, it pays to be smart and to make sure you have good terms. The person you are dealing with now may not be the operator of the well a year from now. 
Work With Experienced Natural Resources Lawyers to Negotiate Your Oil and Gas Lease
The attorneys at the LandownerFirm are well versed in negotiating oil and gas deals and protecting the rights of landowners. Attorney Trae Gray started the practice of law in Coal County in the fall of 2006 during the gas boom of the Woodford Shale play. It was not uncommon to have mineral owners lined up out to the street when the office opened every morning wanting advice on oil and gas deals.
Also, it was during this time that Trae was counsel for a company that started one of the first oil and gas leasing auctions in Southeast Oklahoma. Through this experience, Trae was responsible for negotiating nearly ten million dollars in oil and gas deals.
Although these results are not typical, some landowners received as high as $30,000 per acre for the sale of their minerals and some signed leases with bonuses as high as $10,000 per acre. (based on time value of money in the year of 2007 Dollars).
What Trae learned in all of this was not just the importance of the amount of money, but also the importance of good terms for the mineral owners. Some contractual considerations when doing oil and gas deals:
Depth clauses
Pugh clauses
Length of term
Royalty payment
Commencement and termination terms
Use of surface and surface damages
Water and water damages
Sub-surface rights
Delay rentals
Shut in rights
Legal liability
Accounting issues
Production issues
Do not be penny wise and pound foolish when you need to negotiate a good oil and gas lease.  Contact the LandownerFirm for help getting the most out of your next oil and gas deal. Call 888-439-4729.