Matt Irby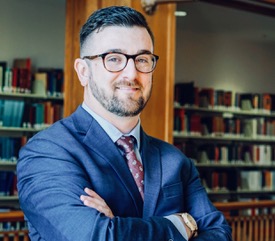 Joined the firm in August of 2020 as an Associate Attorney. Matt received his Bachelor of Science in Environmental Science with a Minor in Soil Science from Oklahoma State University in 2011. Thereafter, he worked for the U.S. Department of Agriculture Natural Resources Conservation Service (NRCS) as a Soil Conservation Technician. During his time with NRCS Matt experienced firsthand how corporate and monied interests can take advantage of private landowners. From oil and gas pipeline surface damages to easement disputes, Matt realized that rural landowners needed help protecting their land and that his position with the government wouldn't allow him to do that effectively.
That's when he and his family made the decision that he would leave the government and attend law school at the University of Oklahoma College of Law. He attended law school to learn the law and how to use it to protect private landowner's rights. During law school Matt was a published member of the American Indian Law Review, writing on the impact of the opioid epidemic on Indian Country and the effect of the recent court decisions involving the Cherokee Nation's lawsuit against opioid manufacturers. He also competed on the Native American Law Student Association Moot Court team, competing in Berkeley, California in the spring of 2020. Matt was a member of the Federal Bar Association all three years, serving as Secretary and President in his second and third years, respectively. Matt graduated from the OU College of Law in May of 2020.
In his free time, Matt enjoys spending time with his wife and daughter, Jerí and Jaclynne, on their three-acre flower farm near Washington, OK called Petal Pusher Farms. Matt also enjoys spending time in the outdoors hiking, mountain biking, and fly fishing, watching Thunder basketball and Oklahoma State Football.
Publications: Matt Irby, The Opioid Crisis in Indian Country: The Impact of Tribal Jurisdiction and the Role of the Exhaustion Doctrine, 43 Am. Indian L. Rev. 353 (2019),
https://digitalcommons.law.ou.edu/ailr/vol43/iss2/3
Matt is licensed to practice law in:
Supreme Court of the State of Oklahoma
Education:
Juris Doctor – University of Oklahoma College of Law, 2020
Bachelor of Science, Environmental Science – Oklahoma State University, 2011